Eve Dawes is a woman of many accomplishments. Born in England, she started her career as a professional dancer; touring internationally with various shows. After 8 years of dancing, she entered the fitness world by attending the Premier International, which is the English equivalent of NASM in the US, and becoming a personal trainer.
After meeting her husband, she moved to the US. She then became a yoga and spin instructor, and redid her training with NASM. She also decided to compete and become a WBFF Pro Bikini Diva. In 2017, she became Mrs. Nevada United States and competed in Mrs. United States where she placed in the top 15.
Recently she founded a custom lipstick company, the Dawes Custom Cosmetics, in Las Vegas. She also runs the Glamour and Gains blog and podcast. In this interview, Eve shares her fitness journey and how she got her sculpted physique.
Table of Contents
How did you get started in fitness?
It goes back as far as I can remember. I started dancing at 3 and at the age of 11, I went to the Royal Ballet summer school and nutrition became a part of my life along with training 5-6 times a week. I went to full-time ballet school (what you'd call college in America) at 16, where we had a nutritionist, so fitness and nutrition was ingrained in me from the beginning.
On top of the 8-12 hours training a day, I also took Pilates several times a week to help me live with my scoliosis. Pilates is such an important part of helping with posture, core strength, and flexibility.
After graduating and 8 years of dancing professionally, there was a natural progression into the fitness world because I'd been training at the gym since I was 16. I needed to stop touring after I got married which led to a career change, and I knew I wanted to be able to help others, so that's how I transitioned into fitness.
I started at Premier International in London which is basically the English equivalent of NASM in America, but an intensive college course you can't just do online; I had to redo my training with NASM once I came to America.
I decided to get into competing because I was seeing all these ads in fitness magazines with the models names and titles such as IFBB Pro and WBFF Pro and I loved their body shapes. That was my inspiration.
Competing and getting into the fitness world really kept me on track after getting married and enjoying LA for a couple of years and gaining weight and losing muscle mass. Originally I wanted to blame it on age, but it came down to a change of lifestyle and taking accountability rather than passing the blame.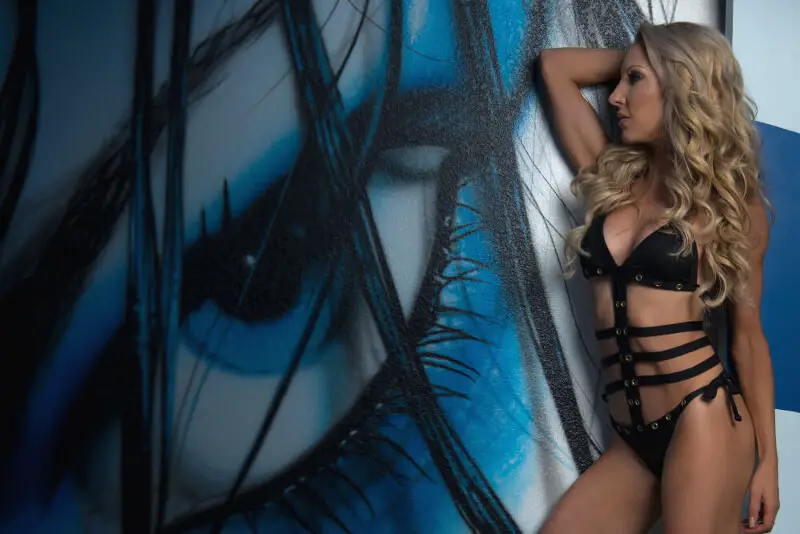 Where does your motivation come from?
I've always been really self-motivated. I don't really have a source of motivation besides wanting to look and feel good, feel energized. And because obesity also runs in my family, I don't want to be a victim of genetics or blame them, but genetics have definitely made me more self-aware and accountable.
We live in Vegas, but it hasn't ever been about looking good for pool season but year-round. I think if fitness is your business, you should really be a walking billboard as it reflects upon your lifestyle choices.
You can have all the knowledge in the world, but if you can't motivate yourself to be fit, healthy, and in shape, how can you expect your clients to be. I don't mean you have to be in competition shape and do understand on the rare occasion it maybe due to medical reasons. If you're not, it doesn't really reflect that you know what you're talking about. You need to be representing your brand and the lifestyle you're promoting.
What is your diet like?
My diet has changed a lot over the years from starving myself, to eating whatever, to competition dieting, to finding the balance. I had nutritionist from the age of 16, but that doesn't mean I always followed that.
When I was on the ships, I couldn't eat what they cooked as it didn't agree with my stomach. So, I was limited to relying on protein bars, shakes, eating off the ship, and things that couldn't be messed around with, like dry bagels and cereal.
Then when I got off of the ship, I got into bad habits as my husband travels a lot for work, so it'd go from popcorn and wine when he was away to late night Mexican (walking distance), date night dinners and desserts when he was home, which was really unhealthy. I think it was also due being able to eat again after being on the ship and being very limited to having the whole world open up to me of food and grocery stores.
Everything got reined in when I started competing because the diet is so strict (6-8 meals a day weighed) and I'm one of these people that are so disciplined that I follow it to the T and never cheated on it whatsoever. It actually got me into a really healthy relationship with food because it got me eating regular meals. I understood what I was eating, it was an energy source as opposed to eating for flavor.
As an athlete (or human in general) you can't fuel your body with rubbish and expect it to perform the same way you wouldn't expect your car to if you put in the wrong gas. In 2002, when I did my PT training, I really got into organic produce and understanding its importance and avoiding genetically modified and hormones filled foods.
Now my nutrition's a little bit more laid-back, but I still have what I would have when I was competing. For breakfast: egg whites, oatmeal, 1 tsp. of healthy fats and a little fruit. For meal 2: 3-4 oz. of lean protein + 2 cups of vegetables + quarter cup/2 oz. of carbs. Meal 3: protein shake or bar, and then if I'm at home, lean protein and vegetables.
We tend to eat dinner out a lot and when I do, I don't worry, as what I'm eating at home is clean (although I do love the occasional square of Cadbury's from England―sorry US, Canada, Australia, yours just isn't the same). It's really about just living a balanced lifestyle that works for you, one you can manage and maintain, that's enjoyable and also helps create healthy relationships around you.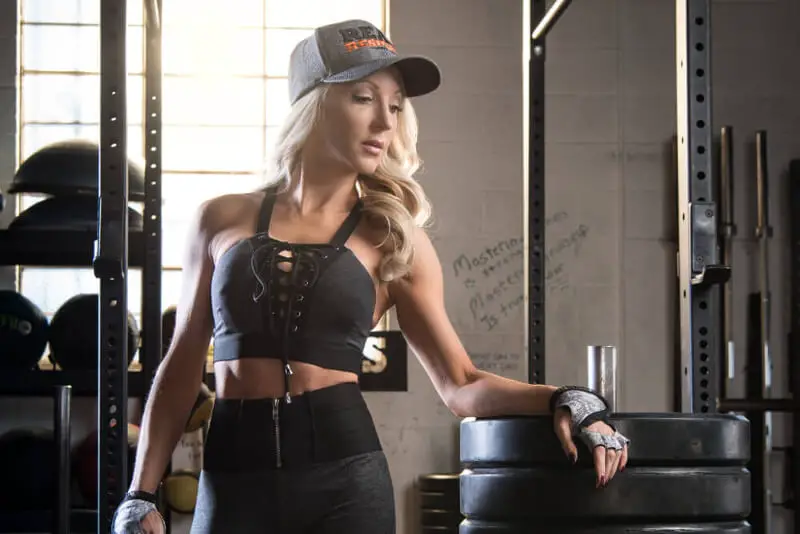 How much time do you spend in the gym?
I like to go to the gym 6 times a week as that's what I was doing when I was dancing and competing and keeps my head in the right place as I struggle with seeing my body accurately. I try to prioritize my time to make it happen so that I can do fasted cardio in the morning and then go back and do weights twice a week.
However, if I don't have time, I don't beat myself up about it. I just go back later in the day which is better than not going at all. I really can't lift more than twice a week; I know they say that women won't bulk up, but I think it depends on your hormones and your body type and I build muscle way too easily (see old Iron Man Magazine articles of me for proof) and it's just not for the look I'm going for.
Sometimes it's more like 5 times a week and I'll combine my weight and cardio sessions to save time. My abs, I train once or twice a week as they're just like any other muscle in the body. My cardio sessions are 35 minutes (when competing 35-60 minutes) and weights never for more than 40 minutes (2-5 x a week competing, 2 x a week maintenance).
What is your training routine like?
For cardio, I'll do the stepper, cross trainer, stairmaster, and occasional spin class. For weights, I change my reps, sets, and exercises every 2-4 weeks, and use mainly free weights rather than fixed path machines.
Have you ever taken a long break from training?
I actually took about a year break from training when I was living in LA after doing Fitness International in Mexico. I was burnt out from training and performing since I was 16, and I was running around trying to find out what I was doing in my career and just enjoying being there after being on a ship for so long. Along with all of the rest of the excuses.
My turning point was that I really didn't like what I looked like anymore, and fitness competitions were my goal and motivation to bring fitness back into my life and get back into optimal health.
What is the toughest part of living a fitness lifestyle and how do you overcome it?
The toughest part is because I love a of glass of wine (or two or three), good food, socializing, going out, and trying different places. In Vegas, we probably have the best restaurants in the world because there's so many of them, so the food and service has to be excellent for them to last. We love going out on a date night, so to overcome that, I kind of do the 80-20 rule. When I'm at home I eat super clean so that when I'm out I can enjoy those foods.
The other part is when we travel for business, when it can be harder to make healthy food choices. I travel with my oats, protein bars, and supplements, and keep notes on restaurants: which ones we like and the foods I like to eat there as well as keeping an eye out on TripAdvisor for new places by searching for farm to table or organic restaurants in the area.
Do you use supplements?
Yes, I use supplements, not as many as when I was competing, but I use a women's multivitamin, I use a hair supplement to help my hair grow and stay thick, and drink hydro whey protein shakes. I also use glutamine after morning cardio before breakfast and again before bed to help with any muscle soreness, recovery, and boost my immune system.
What is the achievement you are most proud of?
It's a little fitness unrelated, but I just opened my first store front; it's actually a custom lipstick lab in Las Vegas. Being from England, I never imagined I would have a cruelty-free Cosmetic Company in America. My biggest fitness achievement is becoming a WBFF Pro and also being awarded number one body in the Mrs. category in all pageants internationally by Pageant Planet.
What are your top tips for people wanting to get a sculpted physique like yours?
It comes down to consistency and discipline. Making it a lifestyle you can maintain. It has to be right for you as what works for one person might not work for someone else's schedule, and everyone has a different ideal look. Nutrition plays a huge part, so nailing that down is the foundation, even more so than your training.